Looks like I'll be signing at WOTR this year! Click the picture for more details!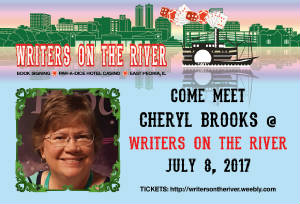 Indies in Indy 2017


Hosted by Lauren Davis and Nikki Reeves of Saints and Sinners Books
Where: Renaissance Indianapolis North Hotel in Carmel, IN
When: July 29, 2017
Sponsors: Author Alex Grayson
Get your tickets now!
Louisville Authors Event May 13, 2017 11am to 11:50pm (times include the after party) at the Crowne Plaza Hotel (Exhibit Hall) 830 Phillips Lane, Louisville, KY.
Indy Author Fair, October 29, 2016 from 12 to 2pm in the Simon Reading Room at the Central Library in Indianapolis.
Book Chicks of Greater Cincinnati Holiday Luncheon and Signing to benefit Toys For Tots. December 3, 2016 from 11am to 3 pm at the Newport Syndicate, 18 E 5th Street, Newport, KY.
Cowboy Heaven Blog Tour!
All of these sites are hosting book and gift card giveaways! The links written in yellow have gone live.
Rebel's blog tour begins June 30th with an author spotlight and giveaway on Mellanie Szereto's
Out of My Mind
blog!
Most of the sites listed below will be giving away a print copy of Rebel! The links in yellow are the direct links to the blogs that have already been posted.
Date

Blog

URL

Notes

1-Jul

Paranormal Haven

Guest post

2-Jul

Casa Author Blog

Guest Post

2-Jul

Miranda 79/Fresh Fiction

review & interview

3-Jul

Cheryl's Book Nook

Interview

4-Jul

Reading Between the Wines Book Club

Interview

Weekend

7-Jul

Brynna Curry's In Shadows

http://brynnainshadows.wordpress.com/

Interview

8-Jul

Long and Short Reviews

http://www.longandshortreviews.com/

Interview &/or guest post

9-Jul

BookHounds

Interview

10-Jul

Fresh Fiction

Guest Post

11-Jul

Book Lovin' Mamas

Interview

Weekend

14-Jul

Night Owl Reviews

http://www.nightowlreviews.com/V5/Blog/Articles/Rebel-by-Cheryl-Brooks

Guest Post - "Letter from the Author" to Night Owl readers

15-Jul

Romance Junkies

Interview

16-Jul

Love Romance Passion

Guest Post

17-Jul

Ramblings from this Chick

http://ramblingsfromthischick.blogspot.com/2014/07/interview-with-author-cheryl-brooks-and.html

Interview

18-Jul

The Reading Addict

Guest Post

Weekend

21-Jul

22-Jul

Literary Escapism

Guest Post

23-Jul

Embracing Romance

Harlequin Junkie

Guest Post/interview

Guest post/excerpt

24-Jul

25-Jul

Weekend

28-Jul

29-Jul

The Qwillery

Interview
Wildcat – The "9 Lives" Book Blogger Hop. There will be giveaways with each post!
Virgin's Blog Tour, May 11 thru June20, 2011!
| | | |
| --- | --- | --- |
| Date | Blog | Notes |
| 5/11 | Sizzling Hot Book Reviews | INTERVIEW |
| 6/2 | Literary Escapism http://www.literaryescapism.com/ | GUEST BLOG: Sci-Fi Romance seems to attract more and more Paranormal Romance and Urban Fantasy Readers. What about Sci-Fi Romance attracts a diverse readership? What do you love the most about writing Sci-Fi Romance? |
| | | |
| | | |
| | | |
| | | |
| 6/8 | Sia McKye's Thoughts Over Coffee | Sharing the laughter and the tears, the glitches and the triumphs authors face in the pursuit of their ambition to write. |
| 6/9 | Love Romance Passion | INTERVIEW |
| 6/10 | | INTERVIEW |
| | | |
| 6/13 | Debbie's Book Bag http://debsbookbag.blogspot.com/ | INTERVIEW |
| 6/13 | Borders True Romance Blog http://bordersblog.com/trueromance/ | INTERVIEW |
| | | |
| 6/16 | Fresh Fiction http://freshfiction.com/ | GUEST BLOG: Character Interview |
| 6/17 | Night Owl Reviews http://www.nightowlromanceblog.blogspot.com/ | GUEST BLOG: If you were an alien, what type would you be and why? |
| | | |
| 6/20 | Star-Crossed Romance http://www.star-crossedromance.blogspot.com/ | GUEST BLOG: What kind of research did you do for this book? How did it make its way into the book? |

Cheryl Brooks Virtual Tour Schedule –Hero--August 2010
Cheryl Brooks Virtual Tour—Fugitive—January 2010
Warrior Blog Tour!